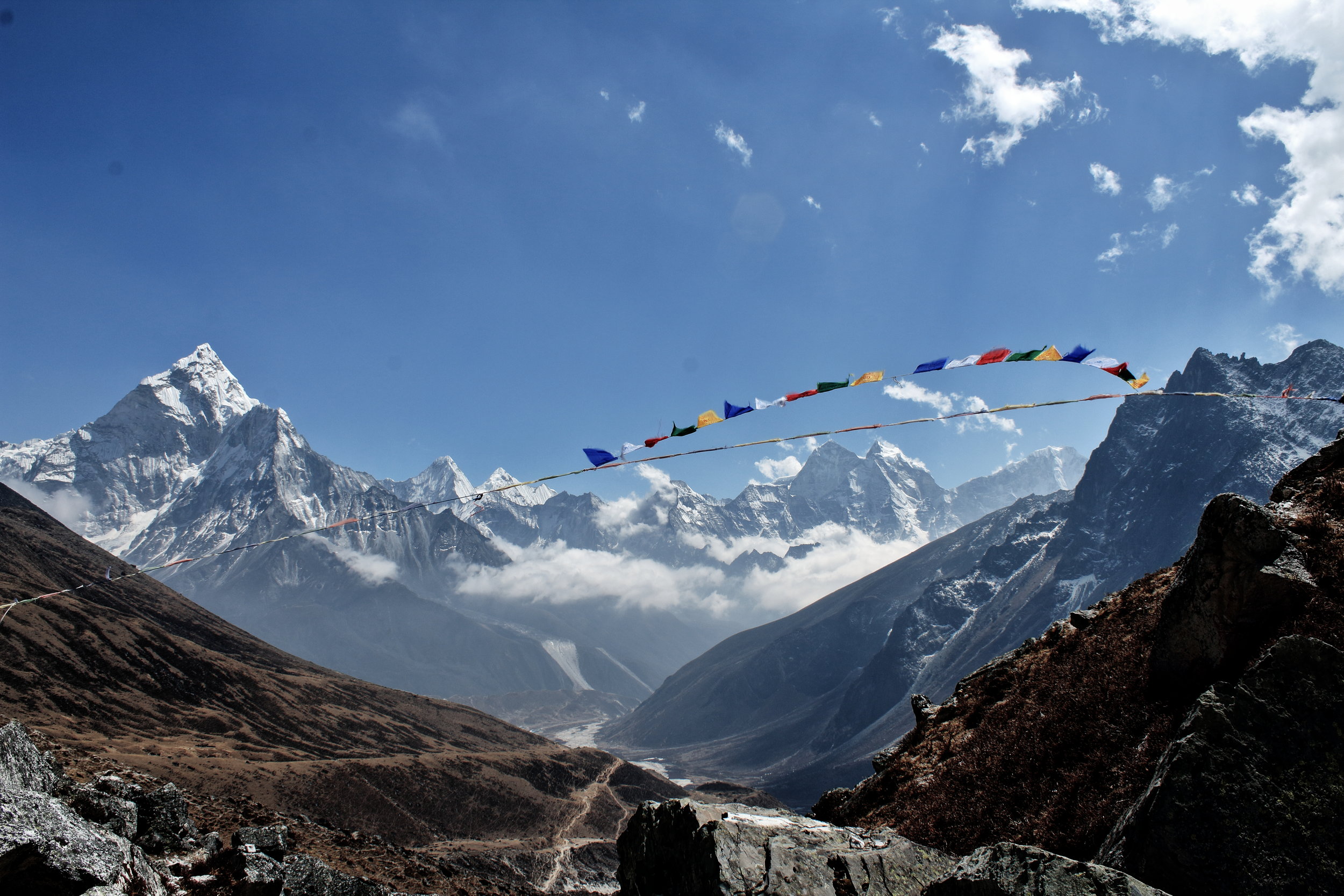 Get Trekking
A 13 Day Trek in Nepal, 4 Nights in Kathmandu, and Make A Difference in the Lives of Children
Join MAD on a 17-Day grand adventure. The trek begins with a beautiful flight to Lukla, situated at 9,184ft. The trek passes through the picturesque Sherpa village of Namche Bazaar culminating in the "ascent" of Kala Patthar – 18,187ft – from where classic views of Everest and the surrounding peaks are available.
Most of the trek is spent above altitudes of 9,842ft. Although this is a short trek, by Nepal standards, there will be plenty of time to enjoy the culture of the Sherpas, visit ancient monasteries and learn how Lamaistic Buddhism influences Sherpa life. We shall stop at any of the numerous teahouses, sip a glass of sweetened tea or Chang (millet beer) and get a taste of hospitality unique to the Sherpas. Beautiful, multi-hued prayer flags, prayer wheels and intricately carved mani stones line every hilltop, rock wall, and trail-side, singing prayers to the gods with every breeze and every passing traveler.
Trip Dates: Oct 9, 2020 - October 25, 2020
Early Bird Special: Register and pay for your trip by August 1st 2019 and pay $250 less than the regular price (more information below under Expedition Cost.
Expedition Details
Please read the following information on what to expect from your expedition.
If you have any questions make sure to visit our contact page.
+ Trip Itnerary
DAY 1: Arrive Kathmandu Airport, transfer, overnight hotel Tibet
DAY 2: Morning Kathmandu City Tour, afternoon meet with guide and prepare for trek, overnight hotel Tibet
DAYS 3-15: 13-Day Everest Base Camp Trek; lodging and breakfast provided at local tea houses
DAY 16: Free Day, overnight, Everest Summit Lodge, Lukla
DAY 17: Depart Kathmandu
+ Fundraise
In addition to the cost of the trip, there is a suggested $1,000 fundraising requirement and a minimum fundraising requirement of US $500 per person to help educate the vulnerable children MAD supports. This amount is due by September 1st.
An easy way to raise money for the children is by setting up a fundraising page. It's a great way to spread the word that you are making a difference and keep track of your donations. Set up your fundraising page today. Please note: MAD only issues tax receipts for money raised for the children but we cannot issue a receipt for money raised for your actual personal climb.
+ Trip Cost
Early Bird Special: Register and pay for your trip by August 1st 2020 and pay $1,995(US)/person $250 less than the regular price (price contingent on 6 or more people and are subject to change). Use promo code: EVER when you register and pay deposit in order to receive discount. You will be billed for this amount.
Regular Price: Register and pay after August 1st 2020 and cost is $2,245 US)/person (price contingent on 6 or more people and are subject to change). You will be billed for this amount.
Find out if you're eligible for a Charity Climb Rewards discount.
Included:
Arrival and departure transfers
Operating costs to setup your climb
4 nights mid-range hotel in Kathmandu w/breakfast
12 nights trek accommodation in simple lodges w/ breakfast
Trek leader (Sirdar/Sherpa) / porters
English-speaking guides
Necessary transfers for Kathmandu-Lukla-Kathmandu flight
One day tour of Kathmandu
Most entrance fees
Everest Conservation fees
TIMS card
Not Included:
International and domestic flights
Kathmandu-Lukla Flight*
Nepal entry visa*
Lunches and dinners*
Beverages
Showers on trek*
Personal hiking gear (sleeping bag, day pack, etc.)*
Trek Tips*
Other tips and personal expenses

*Noted expenses estimated in US$ include:

Flight to Lukla ($415/person)

Nepal entry visa ($40/day/person in newer US bills)
Trek lunches & dinners ($12-15/day/person)
Kathmandu lunches & dinners ($15-18/day/person)
Trek showers ($3-5/day/person)
Trek sleeping bag rental ($3-4/day/person)
Trek tips ($10/day/person)
All payments for your trek will be processed through our travel partner which specializes in Everest treks. They will bill you after you have filled out MAD's registration form and paid your $250 deposit towards your fundraising goal.
All money fundraised for the children will be handled by MAD. To pay the required amount needed for the children you may pay by check or online. By check please send payments to:
Make A Difference 1775 W. State Street #329 Boise, Idaho 83702 USA
Before you leave on your journey, consider purchasing a MAD hat or bag and help educate a child.Shop and Make a Difference
Fundraising is REQUIRED (see Fundraising)
+ Insurance
To ensure that your time with MAD is enjoyable and free from worries, MAD has made travel insurance compulsory for all programs and events. This must be purchased on your own. Without limitation, MAD is not responsible for any injury, damage, loss of property or delays during your stay. *Travel insurance is manditory.
Step 1
Register and pay your initial fundraising deposit of $250.
Your fundraising deposit is refundable up to 24 hours. This money goes directly to Make A Difference to support the children we help.
Step 2
Reserve your spot by paying your $400 trip deposit.
This deposit goes toward your total trip cost and ensures your reservation is held for you. This payment is due right after you finish Step 1.
Step 3
Pay for your remaining balances. You will need to enter two separate payments using the button below. One will be the remaining balance owed for your trip and the other is your fundraising balance. These are both due 60 days before your trip.
Attach matching documents here.
Dates and fundraising minimums are subject to change. Please confirm with us before you purchase your flight.