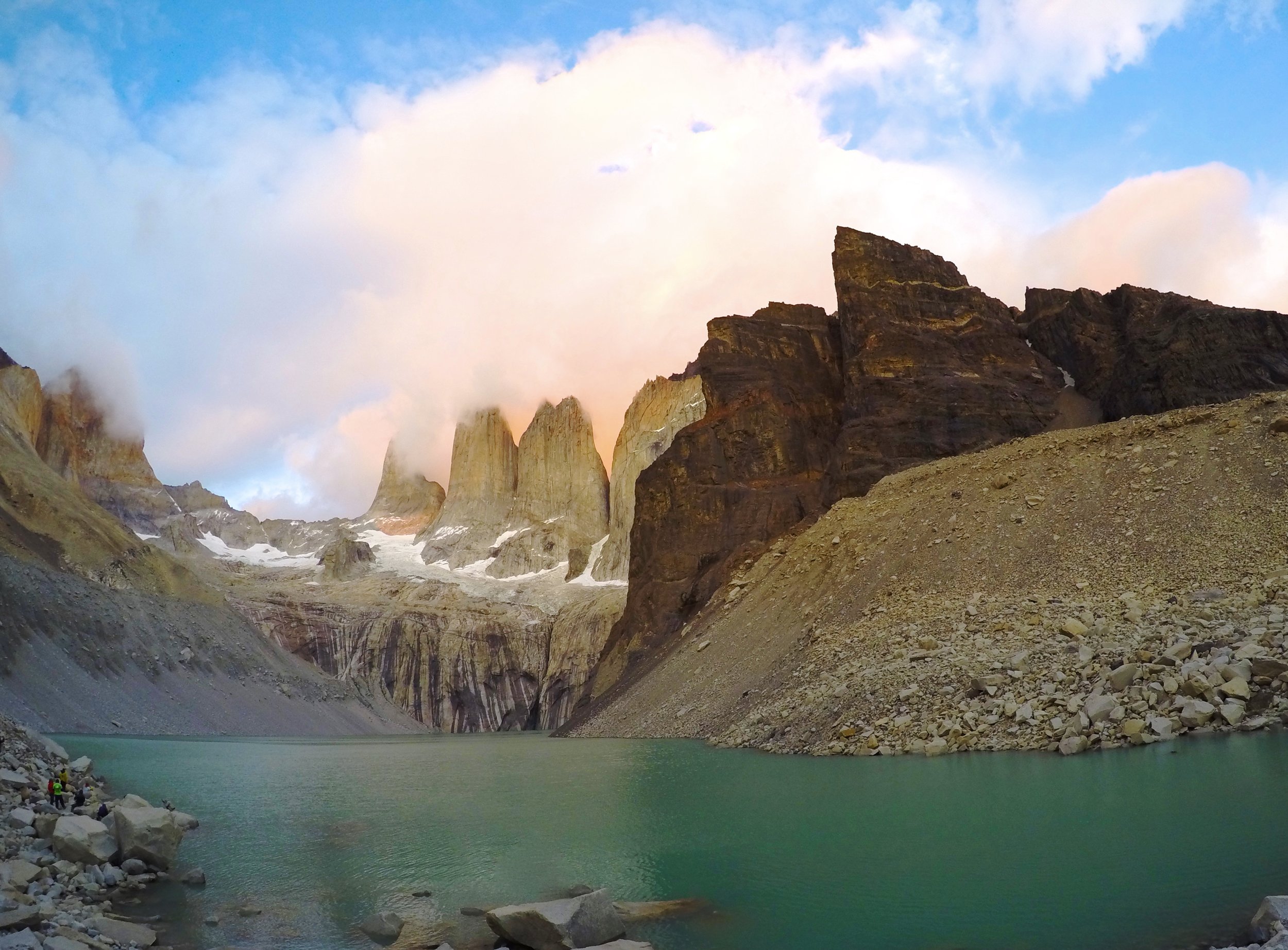 Get Trekking
Join MAD for this five-day expedition to support vulnerable children while enjoying the stunning views of Patagonia.
The trails in between the famous Torres del Paine are among the world's classic hiking routes. Hike the famous "W", enjoy the terrific view of Los Cuernos. Each nigh spend overnights in an amazing EcoCamp with large domed tents similar to yurts and delicious meals.
Highlights: The famous Torres del Paine and "W" with terrific view of Los Cuernos.
Expedition Details
Please read the following information on what to expect from your expedition.
If you have any questions make sure to visit our contact page.
+ Itinerary
DAY 1: Travel from Punta Arenas to Torres del Paine National Park – Settle in and enjoy a delicious meal with fellow climbers. You'll spend the first night at EcoCamp, in a very comfortable dome-shaped tent with views of the stars.
DAY 2: Western Lakes and Pingo Trail – Today's activities include a tour of the Park's western lakes and a hike on the Pingo trail, with the possibility of seeing Huemul, the endangered South Andean deer.
DAY 3: Pehoe Lake crossing and Valle del Frances Trail – We'll start the day by crossing Lake Pehoe and trekking to the Valle del Frances Trail where you'll get a 360 degree view of the mountains.
DAY 4: Trek to the base of the Towers – Hike to the base of the Torres del Paine Towers. Challenging but extremely rewarded with a breathtaking view of the Torres del Paine!
DAY 5: Drive to Punta Arenas for Departure – After a hearty breakfast say goodbye to our beautiful surroundings and return to Punta Arenas for your flight home.
+ Fundraising
In addition to the cost of the trip you will have a fundraising goal. We ask that you raise a minimum of $1,000. All money raised will be used to support the the vulnerable children MAD helps
An easy way to ask for support for your climb is by setting up a fundraising page to help you raise money for the children. It's a great way to spread the word that you are making a difference and keep track of your donations. Note: MAD only issues tax receipts for money raised for the children.
Fundraising Prizes – Safari and Week Long Stay in Tanzania! You can set up your fundraising page HERE. The first climber who raises over $1,000 will win one week of free accommodation and transport at MAD's guest house in Tanzania. Those who raise over $2,000 for the children will get a free safari and anyone who raises $5,000 or more will be provided with one free flight to the Kilimanjaro Region of Tanzania to meet the children we help along with three nights of accommodation and meals.
+ Expedition Cost
Price: Hike cost is 1,995 (US)/person (price contingent on 6 or more people and are subject to change).
Private accommodation is available for an extra charge.
See if you qualify for Charity Climb Rewards!
Not included: International and domestic airline travel to and from Punta Arenas, hotels, meals and snacks before or after the tour.
Before you leave on your journey, consider purchasing a MAD hat or bag and help educate a child. Shop and Make a Difference
*Fundraising is REQUIRED (see Fundraising)
+ Insurance
To ensure that your time with MAD is enjoyable and free from worries, MAD has made travel insurance compulsory. Without limitation, MAD is not responsible for any injury, damage, loss of property or delays during your stay. Dates and fundraising minimums are subject to change. Please confirm with us before you purchase your flight. insurance is manditory.
Step 1
Register and pay your initial fundraising deposit of $250.
Your fundraising deposit is refundable up to 24 hours. This money goes directly to Make A Difference to support the children we help.
Step 2
Reserve your spot by paying your $400 trip deposit.
This deposit goes toward your total trip cost and ensures your reservation is held for you. This payment is due right after you finish Step 1.
Step 3
Pay for your remaining balances. You will need to enter two separate payments using the button below. One will be the remaining balance owed for your trip and the other is your fundraising balance. These are both due 60 days before your trip.
Attach matching documents here.
Dates and fundraising minimums are subject to change. Please confirm with us before you purchase your flight.